The Monkey Wrench is the precursor to the modern adjustable wrench. It shares many of the same features.
Helical screw adjustment mechanism for the moveable jaw, which prevents (as much as possible) the moveable jaw from slipping.
Fixed outer/upper jaw.
Moveable inner/lower jaw.
Smooth jaws (without teeth) for use on the faces of hex and square nuts and bolt or screw heads.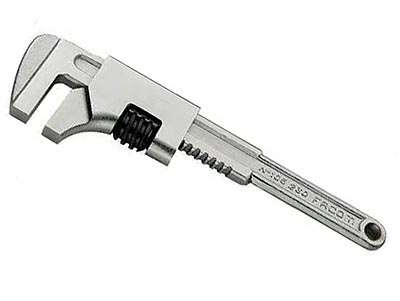 The pipe wrench (or Stillson wrench, after the inventor Daniel Stillson) is a tool for working with iron pipes and pipe fittings without facets. There are significant differences between a pipe wrench and a monkey wrench or an adjustable wrench, which reflect the differences in the tasks they are used for.
First, the jaws of a pipe wrench have teeth. This allows the tool to "bite into" the round pipe or fitting in order to transfer the torque. Toothed jaws can easily "round out", or wear down the corners of, a faceted fitting, so a pipe wrench is a poor choice for those.
Second, the outer/upper jaw is the moveable jaw. That, combined with loose-fitting adjustment collar, allows the head to move about when the tool isn't under tension. With practice, this setup can operate similar to a ratcheting wrench, where the pipe wrench slides around the fitting on the back swing, then bites down again to turn the pipe on the forward swing.